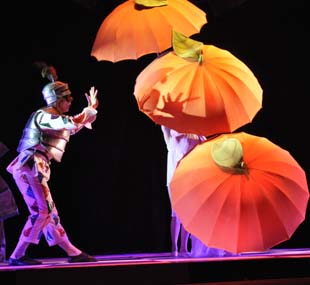 During the Age of Enlightment the goal philosophers was to free people from the magic world. Gozzi's theatre does the opposite. The Middle class comedy seeks naturalism, credibility, imitation of reality as characters and situations are concerned. Gozzi suggests a fantastic theatre filled with wonder and unlikeness whose goal is, in first instance, the audience's pleasure , not their moral education.
In love of the Three Oranges , the king, the prince, along with the commedia dell'arte's masks live in an imaginary world: in a blink of an eye you cross 200o miles, the three fruits give birth to three lovely girls, while the princess is transformed in a dove.
Leaving aside the satirical aspect of the text (against Goldoni and Chiari), you find a a marvelous theatre tale. We wrote the play using improvisation. We tried to follow the same method the commedia dell'arte performers did, when they received the scenario from Gozzi's hand. The outcome of this hard work is a fresh and funny performance, designed by actors for themselves. We learned how true is what Gozzi says in his text:
The audience was very pleased by this new childish magic, and, I admit it, I did laugh at myself, feeling my soul forced to enjoy those images that set me back at my childhood.